We're proud to announce that we will be reopening to the public on Saturday 1st September.
It's been a hectic couple of weeks but we'll be back to normal by next Saturday, ready for you all to come back and get climbing!
Every cloud has a silver lining, and there are actually some positives we can take from this (including brand new holds!)
Keep an eye on our Instagram and Facebook over the next few days for some updates leading up to the reopening, but for now here's a full run through of everything that has happened.
A fire started on the building just next to Rock Over Climbing on Wednesday 15th August just before 5am. The building went up in flames incredibly fast, and 10 fire engines were called in to try and stop the fire from spreading. Thanks to their heroic efforts over the following week, we are still here today.
Climbing centres are not known for their ability to withstand fires, which is probably due to them being made up of around 90% plywood, and I'm sure you can see from this image just how close we were to going up in flames.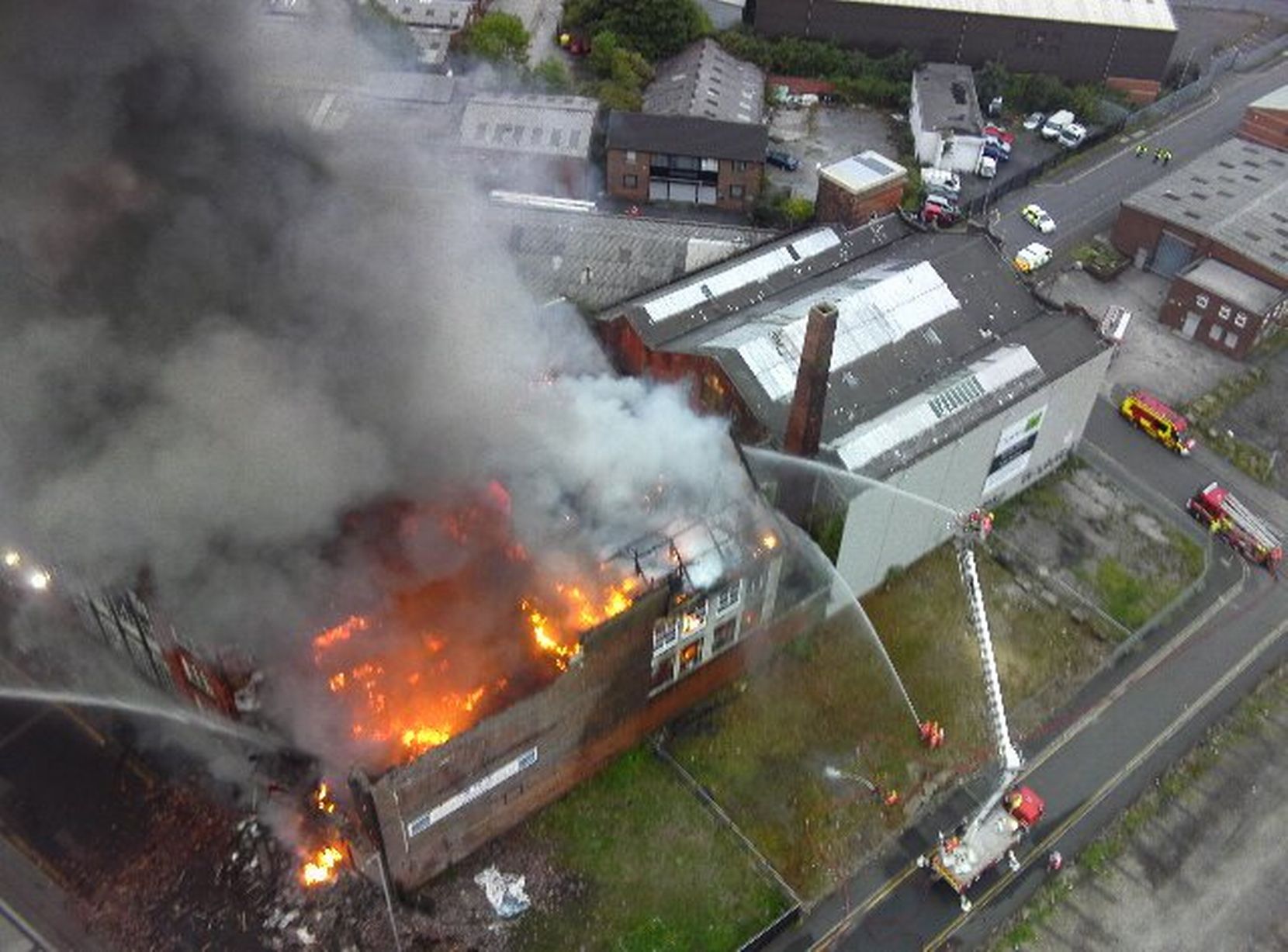 We could see the smoke during our drive in to work, and as we got closer it was clear the fire was definitely somewhere near our building, but we couldn't be sure exactly what was on fire. The surrounding roads were completely closed off by the police, and although they did confirm that Rock Over Climbing wasn't on fire, we weren't sure whether that would be the case for much longer.
There wasn't a lot we could do for the next couple of days, initially we were told that we hadn't been affected and would be able to go back into the building as soon as the fire was out, but due to the severity of the fire a decision was made to demolish the building. Due to the proximity of Rock Over Climbing we had to remain closed while this was taken down.
We were able to get back in the building on Wednesday the 22nd August, and make a more accurate assessment of what had happened.
The first thing we noticed was that nothing was on fire, which was great, but we had taken in a lot of smoke. The bouldering side had to be thoroughly cleaned before we could reopen, so we have hired a professional cleaning company to come in next week and get us back up and running. It turns out climbing holds also hold the smell of smoke really well so we are going to reset the whole centre before reopening, and thoroughly clean all the holds.
A full reset sounded great, and would give our customers a massive amount of climbing to come back to, to make up for the time lost. Easy right? Not quite!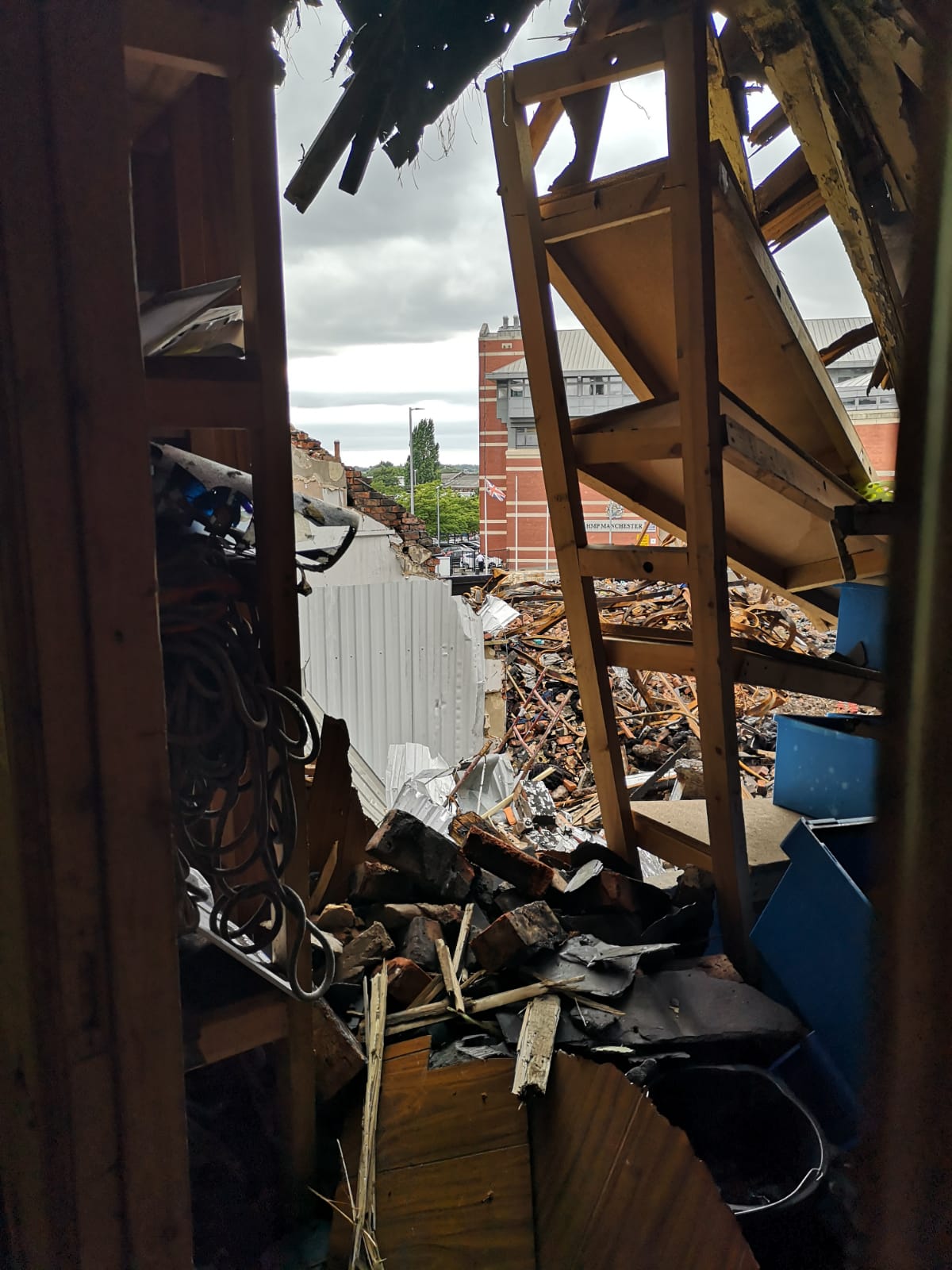 The large hole you're looking at used to be our hold store, and it used to have a large amount of holds in it. Unfortunately during the fire a huge chunk of the roof from the building next door took a dive and has destroyed the whole room. All of the holds we own are now on the wall.
We're ordering new holds, but unfortunately they wont be here in time for the reset, so there is currently a massive amount of jet washing going on in order to start resetting!
The Hub has also taken some damage, mainly from a large amount of water. The mats were actually completed submerged and have been written off, so we're going to have to keep The Hub closed for now. There is also a further issue with the structural integrity of the Hub, which has forced us to temporarily close it to the public. We're having a structural engineer make a full assessment of the building and I'll be posting more about that once we know more.
The Soft Play has also taken on some water damage and we've had to close the ball pit area and toilets for now. The actual soft play structure and main seating area has been unaffected.
There's still a lot of planning to be done, we're currently arranging all the setting to happen next week once the cleaners have been in, and some of the GB climbing team have also very kindly offered to come in and help reset.
There is a lot to be done with our insurance and it will be a little while before we know how much of a hit we've taken from this event. We're thankful that no one was hurt, and that we are still here!
We have some big plans for the future of Rock Over Climbing, and will be rolling out some refurbishments in the near future.
We'll see you all on September 1st!
-Jaric
Rock Over Climbing